Mock Chicken Enchiladas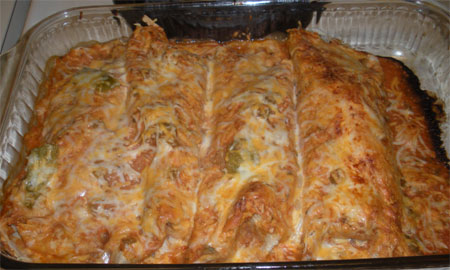 These enchiladas are more delicious and a lot healthier than anything you will find in a Mexican restaurant!
1 ¾ cup mock chicken tenders (in cubes) (I used Quorn brand)
1 15 oz. can of black beans, drained and rinsed
1/4 cup non-fat plain Greek yogurt
1 8 oz. can tomato sauce
½ of a 4 oz. can of diced green chilies
1 cup salsa verde
1 tsp. cumin
1 tsp. cilantro
½ tsp. garlic powder
½ tsp. dried onion flakes
1 cup reduced fat cheddar or Mexican cheese blend or grated vegan cheese
4 whole wheat tortillas (medium size)
Preheat oven to 375 degrees.In a large bowl, mix together yogurt, tomato sauce, green chilies, salsa and all spices.
Spray a medium-sized baking dish with non-stick cooking spray or grease with canola oil. Add about 2/3 cup of the sauce mixture to the bottom of the dish.

Place tortilla flat on a plate. Spread about 1 tbsp. of the sauce mixture evenly across the surface of the tortilla. In the bottom half of the tortilla, spread ¼ of the beans and ¼ of the mock chicken tenders. Sprinkle about 1 tbsp. of cheese. Tuck in the ends of the tortilla and roll it up. Place the rolled tortilla into the baking dish.
Repeat step 3 with the other 3 tortillas.
Pour remaining sauce over the rolled tortillas. Sprinkle remaining cheese evenly across the top.
Cover with aluminum foil and bake about 20 minutes. Remove foil and bake another 15 to 20 minutes.
4 servings
------------------
Jeff's Chili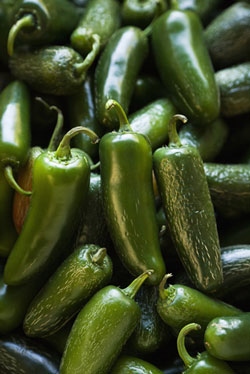 This is my brother's chili recipe. I think it's one of the best I've tasted. Very spicy. He adds a secret ingredient. I changed it slightly by using 2 cans of kidney beans (his original recipe calls for one), and I also add veggie burger (he uses hamburger).
2 14.5 ounce cans of diced tomatoes
1 or 2 14.5 ounce cans of kidney beans
1 can Campbell's Tomato Soup (the secret ingredient)
2 jalapeno peppers, chopped (use more or less depending on how spicy you like your chili)
1 medium yellow onion, chopped
¾ cup veggie burger crumbles
Olive oil
Chili powder, to taste
In a large kettle, add a 2 or 3 tbsp. of olive oil and the chopped onion. Saute until tender, about 6 -8 minutes
Add the remaining ingredients. You may wish to add some water if it is too thick for you.
Simmer for about 2 hours.
Add olives, sour cream, cheese, diced onion or your favorite chili topping. Serve with corn chips or corn bread.
4-6 servings, depending on how hungry you are
------------------
Black Bean Chili
Leftover black bean chili is great packed for lunch. Black beans are full of fiber and no-fat! Make sure you drain and rinse, if using canned, to wash off unneeded sodium.
2 15 oz. cans of black beans, rinsed and drained
1 10 oz. can of Rotel diced tomatoes with green chilies
½ green or red pepper, chopped
½ large onion, chopped
½ package ground veggie burger* (6 ounces)
2 tbsp. olive oil
2 tbsp. chili powder
1 tbsp. cilantro
1 tsp. cumin
2 cups of water
Salt & pepper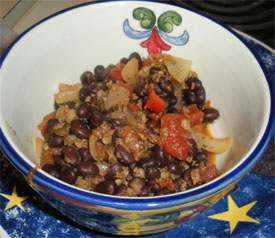 1) In a large pot, heat olive oil on medium-high heat. Add onion s and stir a few minutes, until onions start to soften.

2) Add green pepper and stir fry with onion for a minute or two.

3) Add chili powder, cilantro and cumin and stir.

4) Add veggie burger. Stir fry with other ingredients for a few minutes.

5) Add black beans, tomatoes with chile rellenos and water. Simmer for about 15-20 minutes on medium-low heat.

6) Salt and pepper to taste.

7) Serve with tortilla chips, jalapeno bread or corn bread. Great with sliced avocado.
Makes enough for four people with good appetites.
*I used Smart Ground Original veggie protein crumbles
------------------
Spicy Three Bean Vegan Chili
If you like a little variety in your chili, this one is for you.
1 15 oz. can pinto beans, drained and rinsed
1 15 oz. can black beans, drained and rinsed
1 15 oz. can pink beans, drained and rinsed
1 10 oz. can Rotel diced tomatoes with green chilies, undrained
1 28 oz. can crushed tomatoes
5 strips smoky tempeh, cut in 1 inch pieces
1 medium onion, chopped
½ red pepper, chopped
½ green pepper, chopped
2 carrots, sliced
2 celery stalks, sliced
3-4 tbsp. chili powder
2 tbsp. cilantro
2 tbsp. cumin
½ tsp. cayenne pepper
1 tsp. dried diced onion
½ tsp. garlic powder
3 – 4 tbsp. olive oil
Pepper
About ½ cup water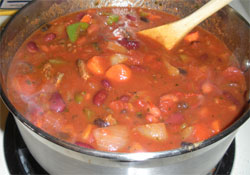 1) In a large kettle, heat 2 tbsp. olive oil on medium high heat. Add diced onions and sauté about 5 -7 minutes.
2) Add carrots and celery and sauté about 5 minutes. Then add red and green pepper and sauté a few minutes more.
3) Add about 2 more tbsp. of olive oil and all of the spices and stir together. Add the tempeh and sauté a couple of minutes.
4) Add in the beans, Rotel tomatoes, crushed tomatoes and water. Bring to a boil. Then immediately reduce heat to simmer. Simmer for about 30 minutes on low heat.
Top with sliced olives, avocado or diced onion. Serve with tortilla chips. Makes a big pot of chili.
------------------
Bean and Hominy Soup
The holidays are over. You spent too much. You ate too much. Make a big batch of this soup and trim both your wallet and your waistline.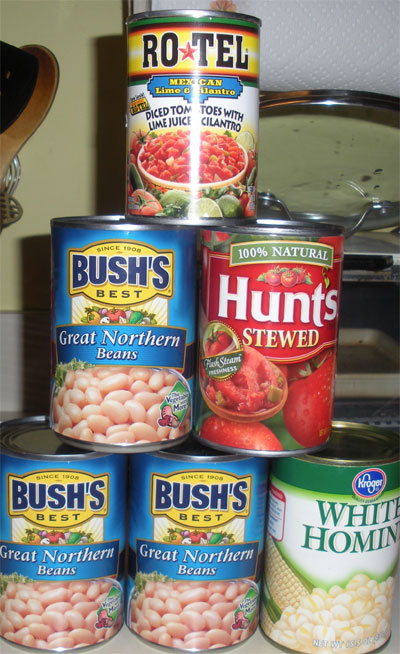 3 15 oz. cans of Great Northern Beans, drained
1 15 oz. can of stewed tomatoes
1 15 oz. can of hominy
1 can of Rotel diced tomatoes with green chiles
½ cup of frozen or drained canned corn
About 2 cups of water
2 tbsp. cilantro
1 tbsp. cumin
1) Mix all ingredients together in a very large kettle.

2) Bring to a quick boil. Then reduce heat to a simmer.

3) Simmer for about 20 minutes.

4) Serve steaming hot by itself or with your choice of toppings: cheese, sour cream, olives, diced red onion, diced avocado, or tortilla chips.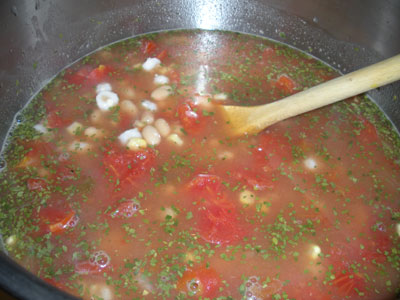 ------------------------------------
Introducing the Vegetarian Light Cookbook!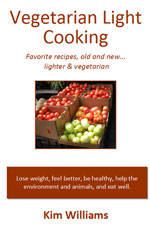 Vegetarian Light Cooking contains 133 easy-to-follow, delicious, low-fat recipes that feature ingredients vital to physical wellness and energy, along with information about their unique health benefits.
What you eat plays a significant role in creating energy, preventing and managing diseases, and enjoying mental and physical stamina.
Click here for more information and to order Vegetarian Light Cooking.
------------------------------------
What's for Dinner?
Search Vegetarian Light for Recipes
------------------------------------
Comments welcome via Blog or Email
Quote for January:
"Whatever the mind can concieve and believe, the mind can achieve."
Dr. Napoleon Hill