Black Bean Chili
Leftover black bean chili is great packed for lunch. Black beans are full of fiber and no-fat! Make sure you drain and rinse, if using canned, to wash off unneeded sodium.
2 15 oz. cans of black beans, rinsed and drained
1 10 oz. can of Rotel diced tomatoes with green chilies
½ green or red pepper, chopped
½ large onion, chopped
½ package ground veggie burger* (6 ounces)
2 tbsp. olive oil
2 tbsp. chili powder
1 tbsp. cilantro
1 tsp. cumin
2 cups of water
Salt & pepper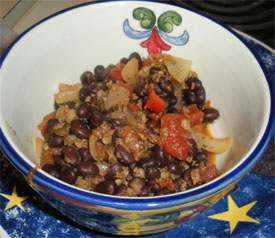 1) In a large pot, heat olive oil on medium-high heat. Add onion s and stir a few minutes, until onions start to soften.

2) Add green pepper and stir fry with onion for a minute or two.

3) Add chili powder, cilantro and cumin and stir.

4) Add veggie burger. Stir fry with other ingredients for a few minutes.

5) Add black beans, tomatoes with chile rellenos and water. Simmer for about 15-20 minutes on medium-low heat.

6) Salt and pepper to taste.

7) Serve with tortilla chips, jalapeno bread or corn bread. Great with sliced avocado.
Makes enough for four people with good appetites.
*I used Smart Ground Original veggie protein crumbles